Details

Published: Monday, 06 October 2014 14:43
Written by coolshades

Jeremy Renner risks everything to get to the truth and break the story that nobody wanted told in the political thriller, Kill the Messenger, directed by Michael Cuesta from a screenplay by Peter Landesman. Renner produces and stars as investigative journalist Gary Webb who landed a career-making story when he uncovered a CIA scheme to smuggle cocaine into the U.S. and use the profits to arm the White House-backed Contras in Nicaragua. Opening October 10th, the film features an impressive ensemble cast that includes Rosemarie DeWitt, Michael K. Williams, Ray Liotta, Mary Elizabeth Winstead, Oliver Platt and Michael Sheen.
At the film's recent press day, Renner revealed what drew him to the project, how screenwriter Peter Landesman and the Webb family helped inform his version of the character, why his portrayal of Webb and his legacy was important to him, how finding the truth in every moment is one quality he shares with Webb, the challenges of telling the story, what he learned about investigative journalism, how being told "no" and knowing when to say "no" has fueled his career, and his exciting upcoming projects including King of Heists, McQueen, Slingshot, a Bourne sequel, and rumblings of Hawkeye joining Captain America 3. Check out the interview after the jump:
What was it about this project that made you say I've got to do this?

JEREMY RENNER: It was a lot of things. Initially, it was selfishness. I was like, "Wow, this is an amazing role and it's an amazing story." Then, I got to the end of the script and I went, "Go away, this happened around the corner from where I grew up. I knew nothing about this." So, it wasn't so much that. It was a true story, which was the main reason why I was like, "This needs to be on a big screen." Otherwise, this could be just good TV. But because it was a true story, I thought, "Wait, this needs to be broadcast. This needs to be louder and make more noise." That was the ultimate reason for me to make it into a movie. It's going to be hard. There are not a lot of people that make these movies anymore. They made them in the 70's. So yeah, there were a lot of reasons to do it. There was no reason not to do it. It was just finding the time to go do it. This was going to take some headwind and some fighting to get it made.
Did you have an opportunity to sit down with screenwriter Peter Landesman and talk a little about the research that he did?
RENNER: Yeah. That was sort of my version of speaking with Gary Webb. "Dude, I'm so foreign to even what investigative reporting is. Tell me what's that about, what do you ask and why do you ask? Do you meet people? Are there psychological things that are involved in that? What are you trying to get at power-wise?" I just had to pry and prod him for information that way. He was very helpful. And then I had the Sue Webbs of the world and the whole family who gave me lots of videos. That really tied me to Gary personally, so that helped tremendously. Peter was a huge, huge resource for me.
How did you approach playing a character that's based on a real person?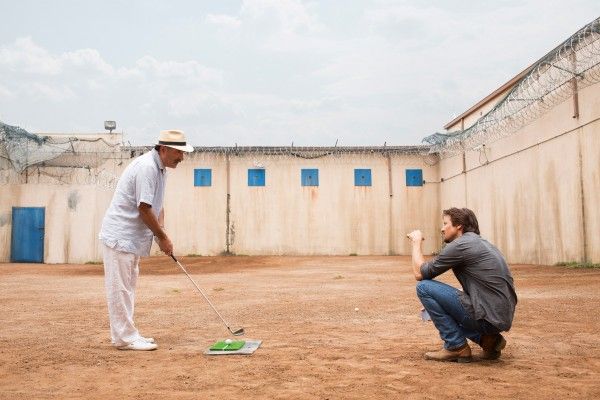 RENNER: I've done it a handful of times, and especially in this one, the legacy of Mr. Webb was very important to me and the family. But I didn't want any of their opinions or anybody to sway me. You have a great road map when you play somebody that exists. That's the amazing thing. But then you have great limitations from that road map. It's hard to deviate from it creatively as an actor. It's like, "Oh wait, he'd never do that," because he exists. He's not a well-known guy so it's not like I have to really mimic him. It's not like JFK with a very specific accent. So, I had a little bit of freedom with Gary because of that. But otherwise, there's a lot that he left behind that I can actually follow. It was pretty easy to jump on.
Was Gary a biker?
RENNER: Yeah. That very bike that I rode in the movie was one that he rode – not that exact bike but that type of bike – the Honda Interceptor. It was a bike that was very important to him.
Have you ever experienced frustration to the level that Gary did or had to fight for something as hard as he did?
RENNER: I don't think there's been anything as important as what he was working on. Whenever I got frustrated, I could feel like it might feel as intense. I guess it would be I've been told "no" all my life. I come from a town where you get married and have babies, and you're probably working on your third divorce at my age. There's nothing wrong with that, I guess. Both my parents did it. I don't know. Adversity. It depends on how you look at it. To me, I look at it as fuel. I could never think that I could do what Gary does. I'm too self-serving. As an investigative reporter, maybe there's a version of serving one's ego, but ultimately what you're doing, the output of it, is so selfless. He was putting his well-being at risk to tell a story and find truth. I mean, there's a version of that in my job. All I do is try to find truth in every moment, with every relationship as an actor, as a character. It's all about truths. I could draw some similarities but never to what Gary might.
Are you a bit of an outsider like he was?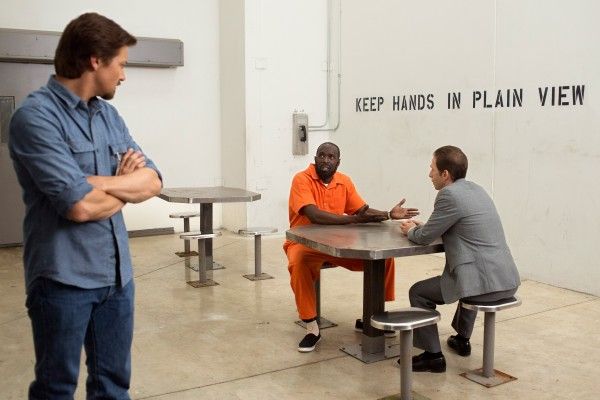 RENNER: Yeah, I suppose. There's always some part of me that's in a character. And then, there are some grey lines, I think, with Gary and I in belief systems and how he viewed things for sure. He's a bit of an outsider. I would consider myself that as well. I'm not complacent.
Can you talk about the paranoid aspect of the character and how that was part of his personality?
RENNER: It's part of the moviemaking as well. It's a subjective matter with Gary. We're following this guy who allows us as an audience into his head or pushes us out of his head. For me, playing the paranoia was more like everything is not paranoia and this is happening. Everything is very real, so I couldn't play like I'm playing paranoid. What I see is what I see. To me, it was no different than any other part of it.
Why was it that whenever he entered a newsroom, no one ever said anything to him?
RENNER: The big thing is he was a satellite guy. He was working in a satellite office, so he was not in the Merc newsroom (San Jose Mercury newsroom) very often, hardly ever. He was a remote guy. He's literally out in the middle of nowhere doing his own things. It felt like most of the time when we saw Gary in the newsroom, it was at the mother ship, and that's not where he worked. That's where we started getting ourselves in trouble. We're trying to be too truthful here, and it's getting in the way of the storytelling because it's confusing people. So, we were trying to find clarity and put titles in. He's in Sacramento right now in his office, because when we opened the movie, that's what he's doing. He's going to the satellite office. You see all the nice logos when he goes back to the Merc News corner. It was hard to tell that story.
In the process of making this, did you discover anything new about journalism?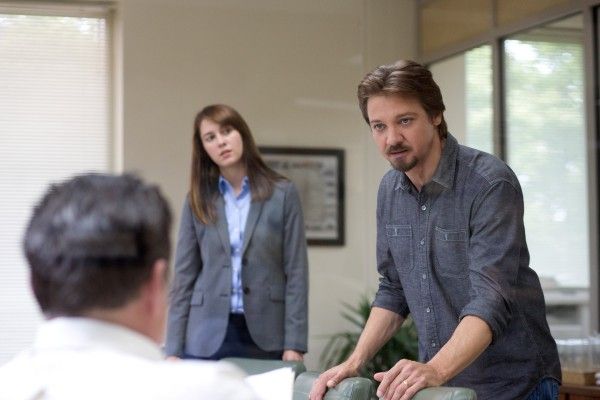 RENNER: Oh yeah, are you kidding me, loads of things. I thought it was interesting outside to see what the job entails, not even on the depths of what Webb has done and the things he's written — he's written some great articles – but just the psychology behind it and what the job is, which is really interesting. What I found most interesting is the relationships, because it can also be a quite lonely, isolating kind of job. And then, the relationships with the editors were really interesting, and the bureaucracy and the corporate life of the newspaper, depending on the newspaper and the size of the newspaper and who they have to answer to when things happen. I was like, "Oh boy, man, this isn't about the stories. This isn't about… What?" It's strange. It's like anything. It's all about money. Right? Everything is run by capitalism. That's so frustrating.
You have a great rapport on screen with Lucas Hedges and Matthew Lintz, the young actors who play your sons. Was that hard to create?
RENNER: Those were easy. Those were amazing kids. It was my job to create relationships with them. They were amazing. I loved that part of the movie.
You mentioned you've been told "no" all your life. Are you satisfied with where you are at this point or do you still feel that struggle in your career?
RENNER: Oh brother, I hope this isn't it. That means maybe it's a plateau and then there's still a lot more to climb. There's a lot more to learn, a lot more to grow as a man, as an artist. In my mind, when that stops, then I'm happy to be gone. You can just put me six feet under. I'm not really interested in not growing and learning anymore. So yeah, maybe it's a great plateau and I can take a nice deep breath. It's like the view is amazing from here.
What was it about acting that made you pursue it if everybody was saying "no"?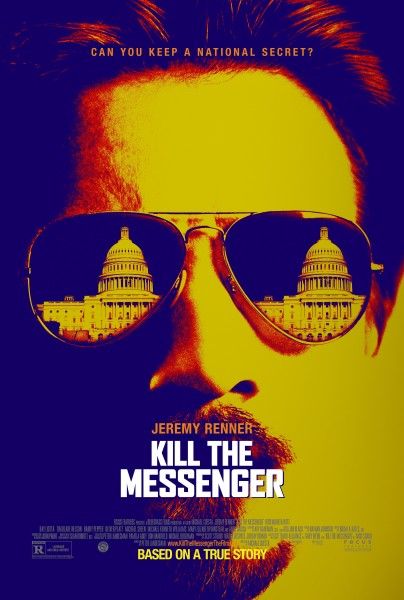 RENNER: Oh, because I knew that's what I was going to do and what I wanted to do. People that say "no" are just in my way. I was very, very focused. I was encouraged along the way with a few things and a few jobs. Every day, it's like four times a day, "Go fuck yourself. Fuck you!" "No, no, no. Fuck you!" There are a thousand ways of saying "no." Okay, whatever. It's fine. That's how it goes.
When you hear people say "no" so often, and then your career finally gets to a point where you're doing a lot of the projects you want to do, is it hard to say "no" to a project that gets offered to you?
RENNER: I have a hard time saying "no" if it's right. I don't say "no" to say "no." I said "no" when I didn't have a pot to piss in. I was living by candlelight and broke. I still said "no" to big money jobs because they didn't make creative sense to me. Now most people looked at me like I was crazy, but no, I know what I want to do. My God, I don't want to go down that road. So yeah, even today, when I say "no" to something, it's because I did due diligence to know that this isn't creatively right for me. I don't think anybody really wants to see me do that or whatever it might be. But I do due diligence before I make a decision on something.
Can you talk about some of the exciting projects you have coming up next?
RENNER: Yes. There are a handful of them at the company. Kill the Messenger is a great one for our company. It's our first one we've produced and it's setting a tone for what we want to do to the public and to other people that want to make movies. Another one is King of Heists that's about the biggest bank robbery in American history. It's very, very exciting. It's kind of like Heat in the early 1900's. It's really cool. And then, there's a Steve McQueen project (McQueen) that's fascinating to me. I love that guy. He's so the antithesis of himself constantly. It's amazing. And then Slingshot is a great rally racing movie. It's again another one with themes of underdogs. But then, I still have Mission: Impossible 5 that I'm going to shoot in a week. And then, Bourne (Untitled Jason Bourne Sequel) will happen next summer. There are rumblings of Captain America 3. I don't know what's going to happen there. I've got to find the time, man. (Laughs) I'm trying to stay home and I can't.
Being a superhero yourself, have you given your co-star in The Town, Ben Affleck, any advice on playing Batman?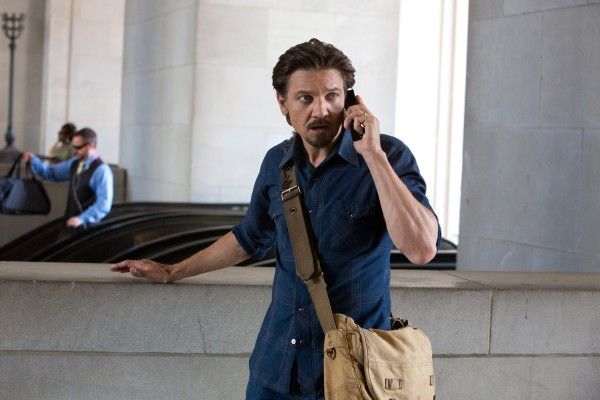 RENNER: (Laughs) No, I haven't talked to him. I haven't seen him. But I'd have no advice to give him.
How has becoming a new dad changed you? What have you discovered about yourself?
RENNER: It's changed absolutely nothing but everything. It's just flipped everything on its head. Everything pales in comparison to what I used to think was important and what I was so passionate about in my life. Nothing means anything to me outside of when am I going to see my daughter next. That's all that matters to me. I love her. I was the oldest of seven kids. So, I literally have a brother who's the same age as my daughter. I have a sister that's 40, and then they all run every five years underneath me. I mean, I grew up changing diapers.
So you've already done the intern work?
RENNER: (Laughs) I've done the intern work. Yeah. I've had to deal with a lot of things. There's a lot of adversity too with the goods and bads of raising kids. Yes. So I was prepped. I was definitely prepped. It still shifts and shapes me every day as it does for me as an artist. It made me probably a much different actor and father in Kill the Messenger. It's great. It informs me in a much different spiritual way. It's beautiful.
Source: collider.com